What is an esthetician?
An esthetician is a licensed skin care professional that offers treatments and personalized recommendations to improve the health and appearance of the skin. Estheticians provide services like facials, hair removal, chemical peels, makeup application and more.
Milady | July 26, 2023 | 10 min read
As the beauty world expands and the demand for radiant skin becomes increasingly popular, people are now seeking out estheticians more than ever. But what is an esthetician? What do they do? Where do they work? And how are they different from other skin care professionals, like dermatologists?
In short, estheticians, also known as skin care therapists, are licensed beauty practitioners that enhance and maintain the appearance and wellness of their client's skin. Through treatments and personalized care, an esthetician plays an essential role in helping clients feel confident in their skin.
In this article, we're diving into the fascinating world of esthetics. We'll explore the services an esthetician provides, what they can't do, how to become an esthetician and more. Continue reading to discover what it means to be an esthetician in today's world.
Table of Contents
What is an esthetician?
As a skin care specialist, an esthetician's primary job is to improve the health and appearance of their client's skin. They have a vast knowledge of skin types, conditions and skin care ingredients, which they use to perform their services and provide personalized at-home care recommendations for their clients.
Services provided by estheticians
While many might regard estheticians as only facialists, a licensed esthetician has a wide range of skills and services to offer that benefit the skin. From relaxing facials to extractions and advanced exfoliation methods, here are the most common services an esthetician may provide.
Facials: A facial is a set of skin care treatments like a wash, exfoliation, mask, extractions, massage and other procedures that they may see fit for your skin type or the condition they aim to treat.
Skincare analysis: Estheticians can determine your skin type and skin care concerns, like acne, aging, hyperpigmentation and more. This skin care analysis will allow them to safely provide treatments and product recommendations.
Please note that although estheticians can work on the above skin conditions, severe cases may require medical assistance.
Hair removal: Estheticians are trained in hair removal techniques like waxing, threading and sugaring. They can use these techniques to remove hair from the face and various body parts.
Extractions: When the skin gets congested, it may need professional help to bring sebum and other buildup to the surface. Estheticians get professionally trained in safely and effectively extracting various types of acne breakouts.
Microneedling: Also known as collagen induction therapy, microneedling is the practice of using small, almost microscopic, sterile needles to puncture the upper layers of the skin. This procedure stimulates collagen production for an improved texture.
Chemical peels: A chemical peel is an advanced chemical exfoliation technique that provides controlled injury to the outermost layers of the skin. During the healing process, the top layer of the skin begins to peel to reveal skin with less discoloration and breakouts and improved texture.
Microdermabrasion: Microdermabrasion is another advanced technique that uses an abrasive (but safe for the skin) instrument that encourages the resurfacing of the skin for a smoother, more even complexion.
Dermaplaning: Dermaplaning involves using a medical-grade scalpel to gently exfoliate away impurities, dead skin, peach fuzz and other buildup on the surface of the skin.
Spray tans: Many estheticians also have training in artificial tanning which involves airbrushing a self-tanner solution onto the body to create a sun-kissed complexion without harmful UV rays.
Brow and lash treatments: Lash extensions, lash lifts, brow lamination and brow and lash tinting are all treatments an esthetician can provide with proper training.
Makeup application: Many estheticians are trained in makeup application and may offer makeup artistry services in addition to their skin care services.
Body treatments: Breakouts and skin conditions don't stop at the neck! Many estheticians may also offer treatments for the back, chest and other areas prone to breaking out.
Product consultation: Estheticians work with clients to create an at-home regimen that promotes and maintains skin health between appointments.
While estheticians are trained in a wide range of services, we should note that not all estheticians can or will provide all of the above services. It's important to note that state regulations and individual levels of licensure may limit the services some estheticians offer.
What does an esthetician NOT do?
Although estheticians are skin care professionals, they do not replace licensed medical professionals. While estheticians can treat and care for a wide variety of skin concerns, we must note that certain types of care are off-limits to an esthetician and reserved only for dermatologists and other medical professionals.
Estheticians cannot provide any of these services:
Medical diagnoses: While estheticians can treat certain conditions, they are not permitted to diagnose medical conditions related to the skin.
Prescription medications: Severe skin conditions may require a medical-grade topical or oral medication. Estheticians cannot prescribe or administer prescription medications.
Invasive procedures: Estheticians are not authorized to perform invasive procedures such as Botox injections, dermal fillers or cosmetic surgeries. They are also not allowed to remove moles, warts, skin tags or other growths.
Chronic skin conditions: Estheticians have limitations treating certain skin conditions. A licensed medical professional must treat the following conditions:

Skin cancer
Severe burns
Skin lesions
Infectious diseases
Conditions that require prescription medication
Where do estheticians work?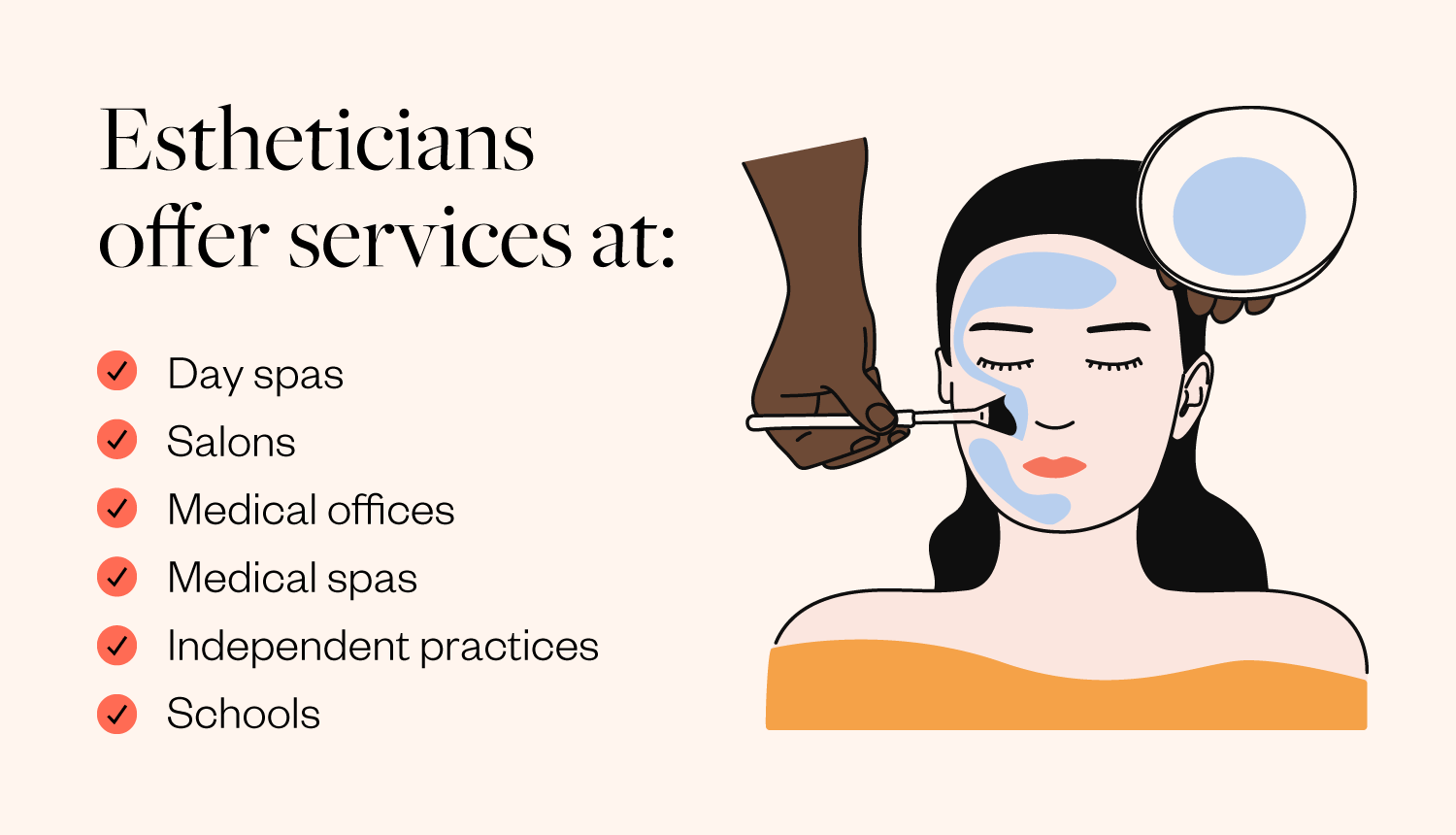 When you think of an esthetician, where do you envision them? Perhaps you see them in a spa or salon. While these are popular environments, you may be surprised to find that estheticians can work in a much wider range of settings.
Estheticians provide their services at:
Day spas: A day spa focuses on wellness, beauty and relaxation. Estheticians that work at day spas provide services that improve the skin in a relaxing setting.
Salons: Estheticians work in salons and provide skin beautification services such as facials and hair removal.
Medical offices: Many dermatology and cosmetic surgery offices employ estheticians. By doing this, the two professionals can collaborate to provide comprehensive treatment to their patients.
Med spas: Medical spas are different from day spas as they typically offer advanced treatments that may require the guidance or supervision of a medical professional.
Independent practices: Like hairstylists and other cosmetologists, estheticians can work independently. If they meet their state's requirements, they can offer services in their home or have a mobile option. Estheticians typically rent spaces in salons and spas while still working for themselves.
Schools: Estheticians can further their education and receive a teaching certificate. Once certified, these estheticians can teach skin-care-focused courses in esthetics and cosmetology schools.
Product sales: Some skin care and makeup stores prefer hiring beauty professionals such as estheticians to work in sales and provide customers with personalized tips and product recommendations.
Skincare companies: Many skin care companies hire estheticians to assist in sales, marketing, education, customer service and more.
3 Steps to become an esthetician
If you're interested in skin care, beauty and helping your clients feel their absolute best, esthetics can be a fulfilling and exciting career. Like any beauty career, estheticians must attend school, take and pass state board exams and obtain their license to practice.
Let's look at these three essential steps to become an esthetician.
Step 1: Attend esthetics or cosmetology school
The first step in any beauty profession is going to school and receiving formal education and hands-on training. During esthetician school, you'll learn best practices, health and safety procedures, how to provide treatments, ingredients and formulations, and more.
You can also go to cosmetology school to become an esthetician to expand your knowledge beyond skin care.
Step 2: Take and pass state board exams
Once you've graduated from your esthetician or cosmetology program, you can take your state's board exam. Many states require a written exam and a practical exam where you'll demonstrate your competence in performing services while prioritizing your client's health and safety.
Step 3: Obtain and upkeep state licensure
Once you pass your state board exam, you can apply for your state license which allows you to practice. Most states require that you renew your license every few years, and some may require a test each time you renew. Always check your state's requirements to ensure you're meeting the licensure criteria after receiving it.
All states require fees to take the board exam and acquire your license. Check your state licensing offices to determine how much it costs to become an esthetician.
Additional FAQ on becoming an esthetician
If you're curious about a career as an esthetician, you may have further questions. Here are the answers to some of the most common questions about esthetics careers.
What's the difference between an esthetician and a dermatologist?
Since dermatologists and estheticians are skin care professionals, the two are often confused with one another. However, some key differences set the two careers apart from each other.
An esthetician primarily focuses on the skin's appearance. An esthetician is not a medical professional but a cosmetic professional trained to specialize in skin. Estheticians offer non-invasive procedures and topical product recommendations to improve the look of the skin and encourage healthy skin care practices.
On the other hand, a dermatologist is a board-certified doctor that practices medicine specializing in skin, hair and nails. Their job is to care for the overall health of these three areas of your body by offering internal and external medicine, medical procedures and more. While dermatologists may assist in the appearance of the skin, their primary focus is diagnosing and treating skin conditions and injuries.
Both professions play an important role in the skin's health and often work together to help their clients and patients feel beautiful in their skin!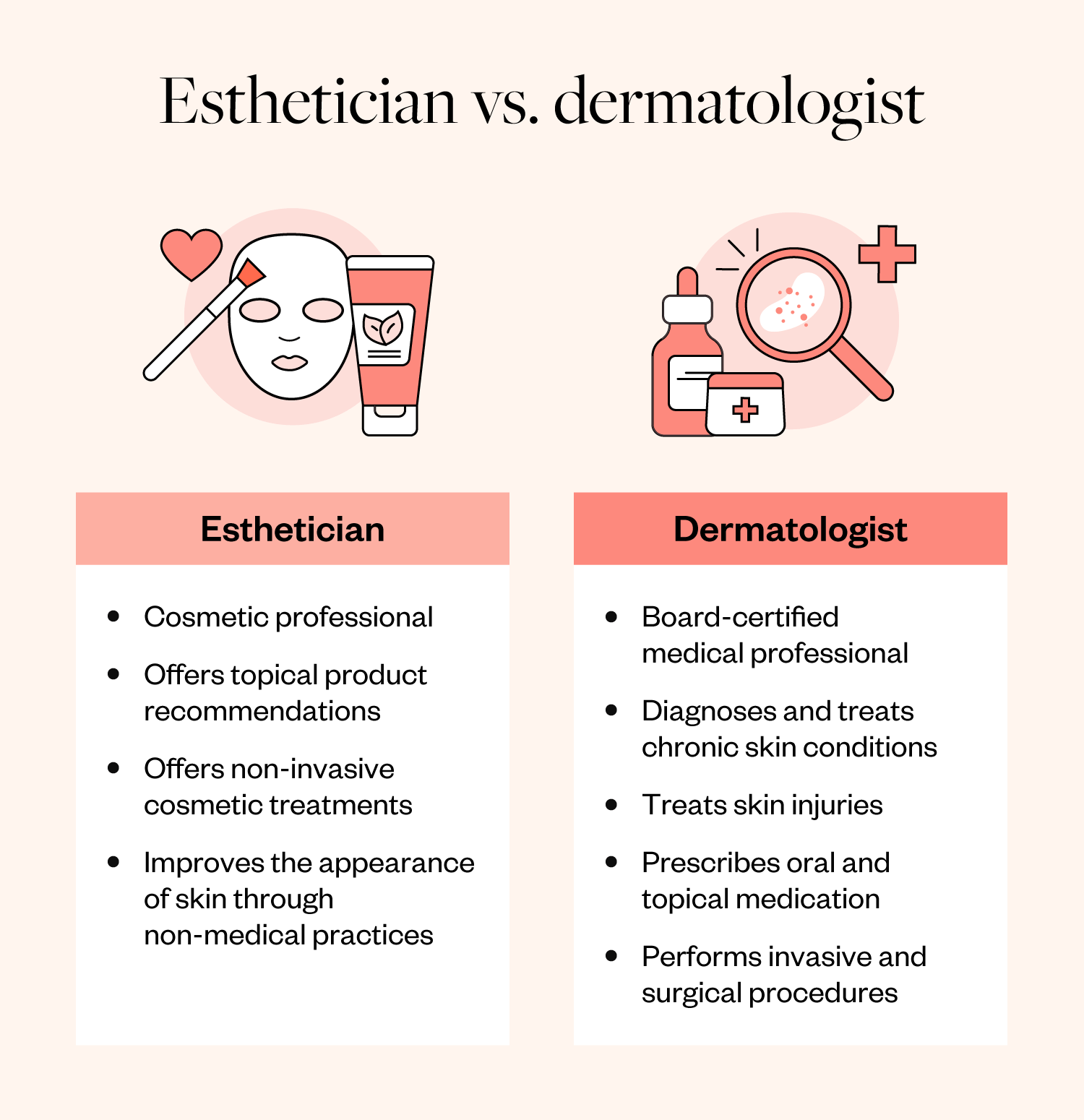 How much does an esthetician make?
Location, where you work, level of education and the number of years practicing all impact your earnings potential as an esthetician. Salary.com estimates that the median pay for estheticians in America is $51,800 a year.
However, it's important to note that the above pay doesn't necessarily reflect their take-home pay. Estheticians, like other beauty professionals, receive cash tips, which according to a study conducted by the Qnity Institute, aren't always calculated into their paychecks and W2s. With that knowledge, we can assume that estheticians have a higher earning potential than what they report.
How long does it take to become an esthetician?
Your state's regulations predetermine the number of your schooling hours. The national average for esthetician schools is 600-hour programs, but some states require up to 1,500 hours. For reference, a full-time 600-hour program may take four to six months, whereas a part-time 600-hour program can take up to a year.
Refer to your state licensing board's website for further details on how many school hours you must complete.
After school, you will take a state board exam and apply for your license. It may take a few weeks to complete these tasks and receive official licensure to practice.
Learn more about the world of esthetics
Does a career as an esthetician sound right for you? Whether you're curious about esthetics or seriously considering esthetician school, the Milady newsletter has everything you need to stay informed about beauty, education, industry trends and career paths.
Sign up today for the Milady newsletter to see what awaits you as a future beauty professional!
Ready to take the first step towards an exciting and rewarding career in the beauty industry?
Sign up for the Milady email list. As a subscriber, you'll get a sneak peek into the world of beauty and all the possibilities that await you. Don't miss out on this opportunity to stay in the know and start your journey towards a brighter future today.
"*" indicates required fields
About Milady
Milady is on a mission to prove that a career in the beauty industry can lead to professional success and personal fulfillment. Our job is to create forward-thinking education that reshapes the industry and uplifts the next generation of beauty professionals. Let's change the face of beauty. Learn more about Milady, here.