Esthetician vs. Cosmetologist: Which Career Should You Choose?
Want to learn more about which one of these beauty industry jobs could be best for you? Keep reading to learn more about what these beauty professionals do, where they may work and find tips to help you choose which beauty school program is right for you.
Milady | May 4, 2023 | 10 min read
When it comes to becoming an esthetician vs. a cosmetologist, you may find yourself thinking, "What's the difference anyway?" In short, estheticians focus on skincare services, go to school for less time and work in more quiet, calm atmospheres. Cosmetologists focus on hair services, receive more schooling and work in more social, fast-paced environments.
Want to learn more about which one of these beauty industry jobs could be best for you? Keep reading to learn more about what these beauty professionals do, where they may work and find tips to help you choose which beauty school program is right for you.
Table of Contents
Esthetician vs. Cosmetologist: What's the Difference?
The main difference between cosmetology and esthetics is that cosmetologists learn more about hair services, and estheticians learn more about skin services.
Additionally, cosmetology is a longer program than esthetics. On average, attending cosmetology school in the United States requires between 1,400 and 1,600 hours, which students can typically complete in less than two years as a full-time student. Esthetics programs average 650 hours, usually around six to nine months.
As far as work environments go, estheticians usually enjoy the quiet, calm atmosphere of a spa. Cosmetologists are more likely to work in lively, social environments.
| | Esthetician | Cosmetologist |
| --- | --- | --- |
| Learning focus | Skin care | Hair services |
| School length | 6 – 9 months | 1 – 2 years |
| Work environment | Quiet, calm | Lively, social |
| Adjusted annual salary (40-hour work week) | No research conducted | $79,807 |
| Average annual salary | $46,223 | $54,307 |
When it comes to the average salary of a cosmetologist vs. that of an esthetician, the numbers can be a little hard to pin down. This is because many beauty professionals accept cash tips or work a flexible schedule of part-time or less than 40 hours a week., which can skew reported salaries toward being lower than they actually are.
With these issues in mind, an in-depth study by Qnity revealed that cosmetologists make an average of $54,307 working 27.8 hours per week. Adjusted for a 40-hour per week, this would amount to $79,807 on average for cosmetologists working full time.
The latest data from Salary.com estimates that licensed estheticians in the U.S. make $46,223 per year, but it's unclear how many hours worked are represented by these numbers or whether cash tips are included.
What is an esthetician?
An esthetician, sometimes spelled aesthetician, is a licensed skin care professional. To become an esthetician, you must attend esthetician school and meet your state's requirements before you can start taking clients as a professional.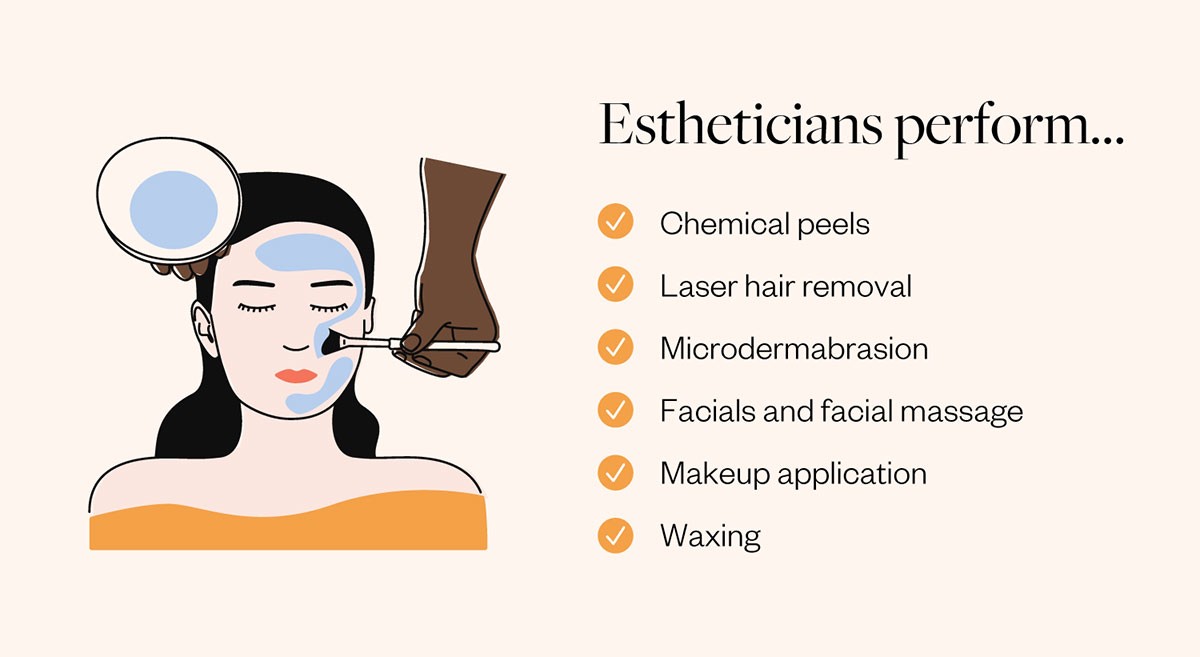 Esthetics can be a rewarding career because you get to help people feel more confident in their skin and you have the power to create your dream job. As a self-employed professional, you can set your own prices, choose your services and design a spa space you love. Plus, the job outlook for estheticians is growing at a much faster rate than average at 17%.
Some careers you could pursue as an esthetician may include, but are not limited to:
Spa esthetician or spa manager
Eyelash and brow specialist
Makeup artist
Hair removal specialist
Cruise ship esthetician
What does an esthetician do?
Estheticians mostly perform skincare services, but this isn't all they do. As an esthetician, some services you could learn to perform include:
Waxing
Laser hair removal
Facials and facial massage
Microdermabrasion
Chemical peels
Body wraps
Back treatments
Makeup application
Lash extensions
Estheticians are not trained medical professionals. As such, estheticians are not able to:
Prescribe medications
Perform botox injections
Diagnose skin conditions
What is a cosmetologist?
Cosmetologists are licensed professionals that can provide hair, skin and nail services, although training is often focused on hair services. Like estheticians, cosmetologists must attend school and meet their state's licensure requirements before they can start their careers. This includes taking your state board's theory and practical exams.
If you enjoy expressing your creativity, cosmetology could be the right path for you. Cutting and coloring hair involves having a creative eye to tailor services to your clients' unique hair.
Cosmetologists also often need to keep up with changing trends and styles to give their clients what they want. Like an esthetician, you'll get the opportunity to help your clients feel more confident and beautiful — plus, the job outlook for cosmetologists is also growing faster than average at 11%.
Some careers you could pursue as a cosmetologist include, but are not limited to:
Hair stylist
Makeup artist
Salon owner
Brand ambassador
Color specialist
Wedding stylist
Lash and brow specialist
Editorial stylist
What does a cosmetologist do?
Cosmetologists are professionals licensed in hair, nail and skin care services, although many cosmetologists tend to focus on hair services.
As a cosmetologist, some services you could learn to perform include:
Hair coloring, cutting and styling
Perms
Chemical relaxing
Waxing
Facials
Makeup application
Manicures and pedicures
The services your license covers will vary by state, but in many states, cosmetologists do not learn certain barbering skills, like working with a razor.
How are esthetics and cosmetology similar?
While esthetics and cosmetology have different areas of expertise, they are also similar in many ways. Whether you decide to pursue a career in esthetics or cosmetology, you will have the opportunity to:
Help people feel confident
Be your own boss
Pursue your passions
Have a flexible schedule
Work in an inclusive industry
Work hands-on
Develop soft skills like communication and emotional intelligence
Join an industry that's growing faster than average
Skip traditional college
Make money doing something you love
How to choose which career is right for you
Can't decide whether to pursue cosmetology or esthetics? Here are a few questions to consider that may point you in the right direction.
Would you prefer working in a bustling, fast-paced environment or a calm, relaxed environment?
Would you prefer to work in a social, chatty industry or do you enjoy more quiet moments?
Would you describe yourself as more artistic and creative or more analytical and methodical?
Do you enjoy change or consistency more?
As a cosmetologist, you'll get to work in a fast-paced, social environment that allows you to express your creativity. Each client's transformation is like a work of art. You're not likely to get bored since keeping up with changing industry trends will provide you with new opportunities to hone your skills.
As an esthetician, you'll enjoy the calm, serene atmosphere of spas. While you'll get to chat with your clients, you'll also spend more time on relaxing services that require peace and quiet. Every client is like a new puzzle since you must analyze their skin type and concerns to choose the right products and services. While you'll always be able to expand your skills, you won't need to keep up with constantly changing trends the way cosmetologists do.
Did one of these descriptions stick out to you? If so, you may have your answer as to which career is the right fit for you!
Additional FAQ on cosmetologists vs. estheticians
Have other questions about the differences between cosmetology and esthetics? Here are answers to some commonly asked questions.
Do estheticians know about hair?
Estheticians learn about hair removal services like waxing or laser hair removal. They do not learn about hair cutting, coloring or styling. These services typically require a cosmetology license.
Do cosmetologists learn about skin?
Yes, cosmetologists do learn about basic skin care services, such as facials. However, their learning is not as in-depth as an esthetician's, and they are unable to perform more advanced services like chemical peels or microdermabrasion.
What's the difference between a medical esthetician and an esthetician?
The main difference is that medical estheticians receive advanced training to work in hospitals, trauma centers, doctor's offices or other medical settings. Estheticians are not certified to work in these settings. Medical estheticians also learn more advanced skin services, such as tattoo removal, pre- and post-surgical skincare and complex chemical peels.
Can I study both cosmetology and esthetics?
Yes! If you can't decide between cosmetology and esthetics, pursuing both is always an option. This can allow you to offer a wider array of services to your future clients.
When it comes to becoming an esthetician vs. a cosmetologist, it's ultimately a choice between skin or hair, calm or lively and analytical or creative.
Ready to take the first step towards an exciting and rewarding career in the beauty industry?
Sign up for the Milady email list. As a subscriber, you'll get a sneak peek into the world of beauty and all the possibilities that await you. Don't miss out on this opportunity to stay in the know and start your journey towards a brighter future today.
"*" indicates required fields
About Milady
Milady is on a mission to prove that a career in the beauty industry can lead to professional success and personal fulfillment. Our job is to create forward-thinking education that reshapes the industry and uplifts the next generation of beauty professionals. Let's change the face of beauty. Learn more about Milady, here.