Is Cosmetology School Hard?
Is cosmetology school hard? The words "hard" and "easy" are incredibly subjective. Here's what to keep in mind.
Milady | October 27, 2023 | 20 mins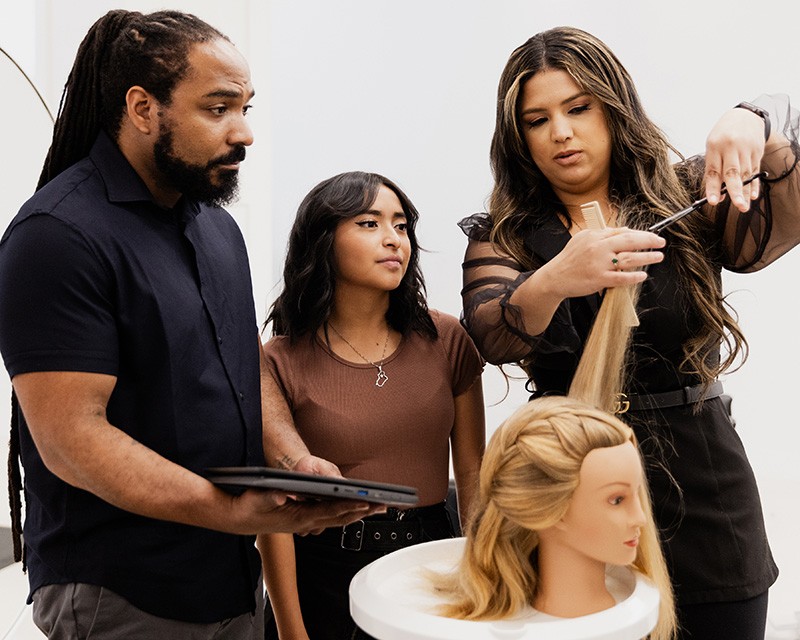 Enrolling in cosmetology school can be exciting—and daunting. It's only natural to wonder about the learning process, especially this fundamental question: Is cosmetology school hard?
Like so many things in life, if you're passionate about what you're doing, you won't necessarily mind if a task is occasionally hard. Besides, words like "hard" and "easy" are subjective. What's hard for one person might be easy-peasy for another.
What follows is a general overview of cosmetology school and its difficulty level. Remember, other factors can play a role, such as state requirements, the type of school, the length of the program, and the way the school is run.
Table of Contents
What types of classes do students take in cosmetology school?
You'll take theory-based classes combined with plenty of hands-on work. For classes focused on theory, you'll learn relevant health science topics (more on this below). For hands-on work, you'll learn how to perform hair, skin, and nail services, starting with basic techniques and growing your skills as you go along. You'll also work in the student salon, applying everything you learn.
Is any of this "hard"?
The difficulty of any given theory class or experience in the student salon will be purely subjective and depend on the individual student. You might find some theories challenging to understand at first or specific techniques harder to master than others. But with time, patience, and practice, you'll get there.
Does beauty school require lots of memorization and science?
You'll need to memorize some items, but most of what you learn will be applied practically in the student salon, which makes learning and remembering much more manageable. (Studies show that students typically learn best through active learning.)
As mentioned above, you will encounter some science, like basic anatomy. You'll learn about bone structure for better hair cutting and design and the muscular system for massage.
Chemistry is another essential topic since it's vital to understand how certain chemicals impact the hair, skin, and nails. You'll also learn the basics about common diseases and disorders that affect hair, skin, and nails.
What's great about beauty school is all the "theory" comes to life during the practical work. If you were only learning theory without seeing how it plays out in real life, it might be harder to wrap your arms around complex topics.
Bottom line: Don't let the word "theory" scare you away.
How does testing work?
Again, testing can vary depending on the cosmetology school or instructor, but multiple-choice tests are common for theory-based exams and quizzes. Students are often tested on a chapter-by-chapter basis (this can help instructors identify which students need extra support and/or what topics the instructor might need to review with students). Most programs usually have written mid-term and final exams.
How do beauty schools grade students?
Grading systems can also vary. But in our experience, the most common method is on a scale of 0 to 100, with a passing score of around 70% – 75%.
When do students start seeing clients in the student salon?
This, too, will vary by state and school. Some states mandate a certain number of hours. Others might indicate a percentage of hours. Still, others might simply say that students must complete classroom training before advancing to the student salon.
As a ballpark figure, cosmetology students usually spend anywhere between 6 and 12 weeks in a classroom environment before starting in the student salon.
How hard is the work in the student salon?
This depends on the student and the service being performed. Some skills and techniques are easier to pick up than others. For whatever reason, you might find yourself struggling occasionally. This is normal—and it's also the point, right?
Remember, you entered cosmetology school to learn the skills required to thrive in this career. No one enters a program knowing how to be a cosmetologist. Everyone has to begin somewhere, and everyone will sometimes stumble or struggle along the way.
The question to ask yourself is how well you handle challenging moments or when the results of whatever you're practicing don't end up exactly as you imagined. Do you get frustrated? Do you quit? Or do you double down and continue trying?
How are students graded in the student salon?
Grading in the student salon can also vary greatly, depending on the school. Some schools will grade every service a student performs. Other schools might give a satisfactory/unsatisfactory assessment of each service. One relatively consistent thing, however, is that an instructor will usually check each service before the client leaves the building.
Do students still take written tests while working in the student salon?
Students aren't "tested" in the conventional sense in the student salon. When a student has advanced to the student salon, a portion of their week will still be in a theory classroom, and tests will still apply there.
Additionally, students will have periodic practical "testing" where a student will demonstrate specific activities and techniques. An instructor might stand by the student and ask questions about what the student is doing.
What if a student makes a "mistake" in the student salon? What if a client isn't happy with the student's service?
Instructors are always there to help with mistakes or unhappy clients. Remember, all students must learn how to deal with unhappy clients because unhappy clients are not unique to the student salon. You will have to manage unhappy clients during your career. So, mistakes can make excellent teachable moments.
And yes—the first time you're dealing with an unhappy client because of something you did (or didn't do), this might sting or even feel "hard." But again, the goal is to learn and grow.
What are some of the biggest challenges students encounter during cosmetology school?
Attendance can often be one of the biggest challenges. Students are required to clock hours to complete their education. (Different states have different requirements.) Late arrivals and no-shows can add up quickly and put students behind.
You must be honest about your time management skills (or lack thereof) and how to improve them if they need work. You'll need to approach many programs like a full-time job. Most full-time programs run five days a week and anywhere between six to eight hours daily. Students must be present to learn the skills needed to get licensed and succeed in this career.
And speaking of skills, be prepared to learn plenty of soft skills, too. Think things like active listening, creative problem-solving, and good interpersonal communication. No matter how great your technical skills are, if you treat a client poorly, they won't return.
Depending on your personality, you might find learning these soft skills easy or hard (or a combination).
How hard are the state board exams?
Once you successfully graduate from your cosmetology program, the only thing standing between you and your license is a state exam—or two. Almost every state requires a practical exam and a written theory exam.
If the thought of "state board exam" freaks you out, keep this nugget in mind: You've been training for this moment since you entered beauty school—and your instructors have been preparing you for these tests as well. So, while you might not relish studying for them, you can (hopefully) accept that they are a necessary part of realizing your dream of becoming a licensed beauty pro.
We've written an in-depth article on what to expect from the state theory and practical exams, including how to prepare for each. This should help demystify the process.
Remember, "hard" is in the eye of the beholder.
So, is cosmetology school hard? Ask anyone who successfully graduated cosmetology school if it was easy or hard, and they will likely tell you it was both. Just because something is occasionally hard doesn't mean you won't love it—or flourish. Cosmetology school will likely challenge you—but in a good way.
We wish you the best of luck if you decide to go for it. If you want to stay updated on the industry, course offerings, and continuing education, sign up for our Milady newsletter.
Ready to take the first step towards an exciting and rewarding career in the beauty industry?
Sign up for the Milady email list. As a subscriber, you'll get a sneak peek into the world of beauty and all the possibilities that await you. Don't miss out on this opportunity to stay in the know and start your journey towards a brighter future today.
"*" indicates required fields
About Milady
Milady is on a mission to prove that a career in the beauty industry can lead to professional success and personal fulfillment. Our job is to create forward-thinking education that reshapes the industry and uplifts the next generation of beauty professionals. Let's change the face of beauty. Learn more about Milady, here.