What do you learn in cosmetology school?
If you want to work in beauty you might be asking "what do you learn in cosmetology school?" Between hair, nails, skin and makeup, there's plenty to learn!
Milady | June 1, 2023 | 11 min read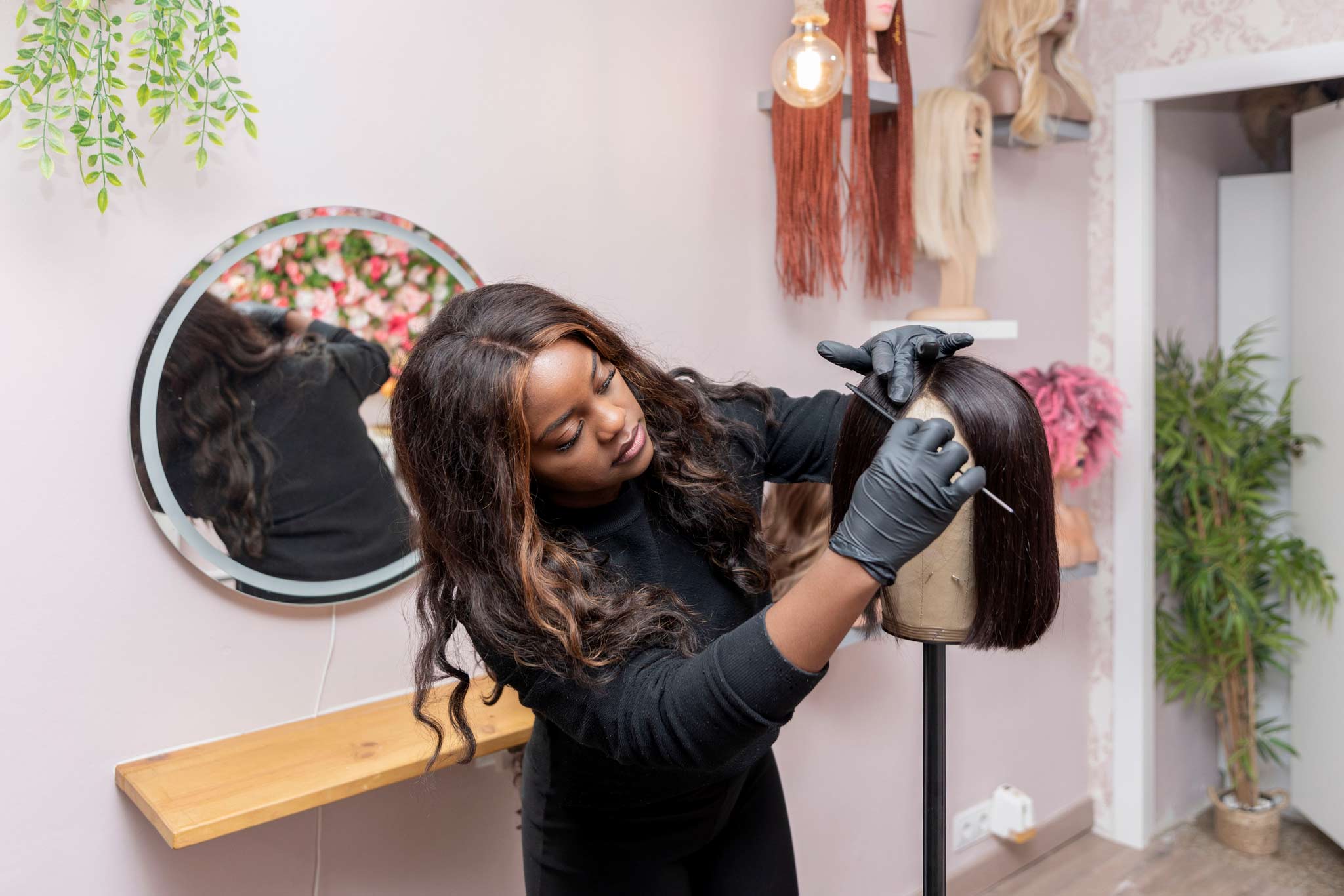 Is cosmetology school right for you? If you love all things hair, nails, skin and makeup, a cosmetology license and career may be the fulfilling path you're searching for.
However, before you jump into filling out applications, you may need to slow down and ask yourself some questions. For example, you may want to consider the curriculum and expectations of a beauty program before diving in headfirst.
So, what do you learn in cosmetology school? From hair styling to nail art to business practices, you'll learn everything you need to set yourself up for success in the competitive beauty industry.
Let's take a more in-depth look at the skills you'll learn as a cosmetology student.
Table of Contents
What is cosmetology school?
Cosmetology school is an educational institution that offers training for the four pillars of the beauty industry — hairstyling, makeup, nail care and skin care. Attending cosmetology school involves a mixture of classroom lectures and hands-on training in a salon-like setting, where students can practice on mannequins, fellow students or real clients under the supervision of experienced instructors.
After completing the required training hours and meeting the other licensing requirements set by the state, cosmetology school graduates can pursue a professional career in the beauty industry.
What do you learn in cosmetology school?
When you're in beauty school, you'll learn how to perform skills within each of the four cosmetology specialties — from hair cutting and coloring to artistic makeup application and advanced skin care and nail techniques.
However, cosmetology school doesn't stop with these skills. Programs are designed to set you up for success in the real world. That means you'll learn about health and sanitation requirements and vital business skills that will propel your career.
Hair styling, cutting and coloring
When you're learning about hair, you'll learn everything from styling to chemical treatments. The curriculum will teach you how to use different tools and techniques to achieve a wide range of hairstyles and colors.
Here are the key areas of knowledge you'll cover in a cosmetology program:
Basic haircutting: Learn how to use different tools and techniques to create styles like blunt cuts, layered cuts, graduated cuts, shaved styles and textured looks.
Hairstyling: Learn how to create various hairstyles including blowouts, updos, braids, curls and straightened looks. An essential part of hairstyling is learning how to work with different hair textures and lengths.
Hair coloring: Learn how to work with different types of hair colors, such as permanent, semi-permanent and temporary colors. You will learn about color theory, formulation, application techniques and how to achieve desired color effects.
Chemical treatments: Learn how to perform chemical treatments like perming, relaxing and texturizing. You'll learn to assess hair condition, choose appropriate products and how to perform these treatments safely and effectively.
Hair extensions: Some hair schools offer training in hair extensions where you'll learn how to apply, maintain and remove different types of hair extensions, such as clip-ins, tape-ins, sew-ins and fusion extensions.
Scalp and hair care: Learn how to maintain healthy hair and scalp through proper shampooing, conditioning and treatments for common scalp and hair conditions.
Esthetics (skin care services)
In addition to hair training, you will also receive training in various aspects of skin care to become knowledgeable and skilled in providing skin care treatments and services as a cosmetologist or esthetician.
These are the topics covered in skin care education within a cosmetology program:
Skin anatomy: You'll learn about the different layers, cells and glands that make up the skin and how it functions.
Skin analysis: Learn how to analyze and evaluate different skin types and conditions which determines suitable skincare products and treatments.
Skin conditions and disorders: Learn about common skin disorders and conditions such as acne, rosacea, eczema, hyperpigmentation and sun damage and how to treat and manage these conditions.
Facials: Learn how to perform facial treatments such as cleansing, exfoliation, steaming, extractions, mask application, massage techniques and moisturization. You'll learn how to create services that address specific concerns like acne, discoloration or anti-aging.
Hair removal: You'll learn various hair removal techniques like waxing, threading and tweezing.
Product and regimen: You'll learn about different skincare products and study the ingredients, their function and how to choose appropriate products for different skin types and conditions. You can then use these products in your services or recommend them to your clients to use in their at-home routines.
Nail services
Another core part of cosmetology school is learning how to safely and effectively perform nail services. You'll receive training in various aspects of nail care, nail art and nail enhancements. With these skills under your belt, you can work as a nail artist or technician to provide services like manicures, pedicures, nail extensions and more.
Here are the skills you'll learn from the nail technology curriculum:
Manicures and pedicures: Learn basic nail techniques like nail shaping, cuticle care, filing, buffing and massage. This part is essential for learning how to properly clean and prepare the nails for polish and other nail enhancements.
Acrylic: Learn about nail extensions and enhancements using acrylic powder and slip solution. You'll learn how to apply and shape artificial nails for length and durability.
Nail and gel polish: You'll learn how to apply traditional nail polish and gel polish. This includes details about base coats, top coats, color selection and how to create a smooth, long-lasting finish.
Nail overlaying techniques: Cosmetology school may also teach you about other advanced nail overlays other than acrylic. These overlays may include hard gel and dip powder.
Nail repair: Learn how to repair and treat nails that are cracked or broken as you rebuild the structure of the nail.
Nail artwork: These lessons include how to create different artwork on nails using jewels, glitter, stamping, freehand painting and other nail embellishments.
Makeup artistry
Many cosmetologists have careers as professional makeup artists after learning all the necessary skills in school. A cosmetology program will teach makeup application in various styles. From artistic and special effects to everyday makeup, you'll learn the products and application techniques you'll need to be a successful makeup artist.
Here are the topics you'll cover throughout your makeup art classes:
Color theory: Learn about color theory to choose and mix colors that match and complement different skin tones, eye colors and hair colors.
Facial structure: You'll learn all the different face shapes and how to apply makeup to them to create a desired look.
Makeup tools and products: You will learn about the different tools you need for certain makeup techniques. As for products, you'll learn their functions and how to use them to create the client's desired look.
Bridal and event makeup: Many schools offer courses on different styles of makeup. One of the most popular styles is event and bridal makeup where you'll learn how to achieve a long-lasting look that enhances the client's beauty.
Special effects makeup: Another specialty you can learn in cosmetology school is special effects makeup using prosthetics and advanced techniques to create realistic artistic looks.
Photography and film makeup: You can learn about makeup techniques that are popular in the photography and film industry. You'll learn how to create a look optimized for different lighting effects and camera settings.
Safety and sterilization
There are safety practices all cosmetologists must learn to maintain their state licenses. These practices and procedures ensure cosmetologists look out for the well-being of their clients, themselves and other cosmetologists working in their vicinity.
Thankfully, cosmetology schools teach safety practices that apply to each of the four specialties. Tool sterilization, infection control, personal hygiene and ergonomics are just a few of the safety protocols you will learn about and practice in school.
Business and Marketing
The biggest perk of becoming a cosmetologist is having the option to work for yourself. While working for yourself is appealing for many reasons, it can also add a lot to your plate since it is your responsibility to deal with business finances, sales and client management.
Thankfully, cosmetology school gives you plenty of opportunities to learn marketing and business fundamentals that pertain to the beauty industry.
These are some of the business skills you can learn in cosmetology school:
Building clientele: Learn how to attract new clients and maintain the ones you have.
Branding: Learn how to build a brand around your services and become recognizable.
Finances: Learn how to manage a business budget and how to invest in your business.
Entrepreneurship: Learn how to expand your business and broaden your horizons.
Sales: Learn how to sell services and products to your clients.
How do I become a cosmetologist?
The first step to becoming a cosmetologist is completing an accredited cosmetology program. These programs are offered through some high schools, community colleges or private schools. Each state has different requirements for how many training hours you complete, all of which must be completed under the supervision of a school instructor.
Once training hours are completed and you've graduated from your cosmetology program you will take the state board exam. These board exams often consist of a theory (written) and a practical exam, which requires you to perform a set list of tasks.
Once you pass board exams and graduate from your program, you can apply for a state license to professionally practice cosmetology. Please note that a certificate and license are not the same and you cannot legally practice cosmetology without a license. For licensing applications and information, check with your state's board of licensed professionals.
When you complete all of the above tasks and have a license in hand, you're ready to officially start your career as a cosmetologist!
Are there prerequisites for cosmetology school?
Many cosmetology schools have a few prerequisites you must complete to get into their program. Since state requirements widely vary, it's important to note that some of these requirements may not apply to every program. For more information regarding a school's prerequisites, please visit their website or contact them directly.
Let's take a look at these common prerequisites:
Age requirements: Many cosmetology schools require their students to be 18 years or older. The exception to this prerequisite is if a state provides a cosmetology program in high school.
High school diploma or GED: This is often a requirement for a community college or private program. However, similar to the age requirement, this is waived if there is a high school program for cosmetology.
Complete application: To be accepted into a beauty program, you must apply to the school and prove you will be a dedicated student who is passionate about cosmetology.
What supplies will I need for cosmetology school?
Disclaimer: Each cosmetology program has different preferences for the equipment you will use. Check your school's website for a detailed list.
Schools often provide training kits that include textbooks, products and other training materials. However, many schools request that you purchase your own tools that you can use throughout your training and into your career.
Here's a general overview of the supplies you'll need for cosmetology school:
Hair styling tools including but not limited to:
Shears
Clippers
Blow dryer
Curling irons
Brushes and combs
Mannequin head(s) for practicing
Nail tools, which may include:
Nail clippers
Files
Cuticle trimmers
Toe separators
Makeup sponges and brushes
Makeup products including but not limited to:
Primer
Foundation
Powder
Concealer
Blush
Bronzer
Contouring palette
Eyebrow makeup
Mascara
False eyelashes
Eyeliner
Skin care tools which may include:
Tweezers
Waxing materials
Gloves
Fan brushes
Headbands
You will also need access to a computer or tablet as many schools have online curriculum and e-books.
What are the pros and cons of cosmetology?
A career in cosmetology is an exciting and challenging experience. For many, the pros far outweigh the cons, but both are important to consider. Let's take a closer look at the most common pros and cons of working in cosmetology.
Pros:
Growing industry: The Bureau of Labor Statistics estimates that projected employment for barbers, hairdressers, hairstylists and cosmetologists will grow by 11% between the years 2021 and 2031.
Work for yourself: Cosmetologists can work for themselves as independent contractors. This allows them to run their businesses as they prefer and create their own schedules.
Entrepreneurial opportunities: Cosmetologists work for themselves and often grow their business by expanding their services or opening a salon or spa business.
Tips and commissions: As part of the service industry, cosmetologists often receive tips on top of their service price. They will usually earn a commission through the salon based on their client volume and the products they sell.
Cons:
Physical demands: Cosmetologists are on their feet throughout their shifts and often rush back and forth between different tasks. This quick-moving environment can be hard on the body and lead to foot, leg and back pain for those who are not prepared.
Renewing licenses: Depending on the state where you work, you will need to renew your license regularly — typically every one to two years.
Gaining steady clients takes time: When you're first starting out, it can be easy to get discouraged that you don't have a slew of clients booking with you. Building your brand and a steady clientele takes a considerable amount of time, patience and effort.
Ready to take the first step towards an exciting and rewarding career in the beauty industry?
Sign up for the Milady email list. As a subscriber, you'll get a sneak peek into the world of beauty and all the possibilities that await you. Don't miss out on this opportunity to stay in the know and start your journey towards a brighter future today.
"*" indicates required fields
About Milady
Milady is on a mission to prove that a career in the beauty industry can lead to professional success and personal fulfillment. Our job is to create forward-thinking education that reshapes the industry and uplifts the next generation of beauty professionals. Let's change the face of beauty. Learn more about Milady, here.