How to become a nail tech in 2023 (Time, cost and salary)
Future nail technicians have a great opportunity to work in a rapidly growing market where you can work for yourself. To become a nail technician, one must meet school prerequisites, attend a state-approved program, pass the state board exam, apply for a license and then find a place to work.
Milady | September 7, 2023 | 10 min
How would we describe a prospective nail tech? Artistic, detail-oriented, beauty-obsessed and sociable.
Future nail techs have a tremendous opportunity to join the job market in the upcoming years. With a predicted 22% growth rate by 2031, the nail industry is rapidly growing, and there's a noticeable need for great nail technicians.
If you have a passion for nails, want to work for yourself and are eager to help clients feel beautiful, you're in the right place. Here's our guide on how to become a nail tech in seven steps.
Table of Contents
What is a nail technician?
A nail technician is a licensed professional who provides various services concerning the health and aesthetics of their client's nails.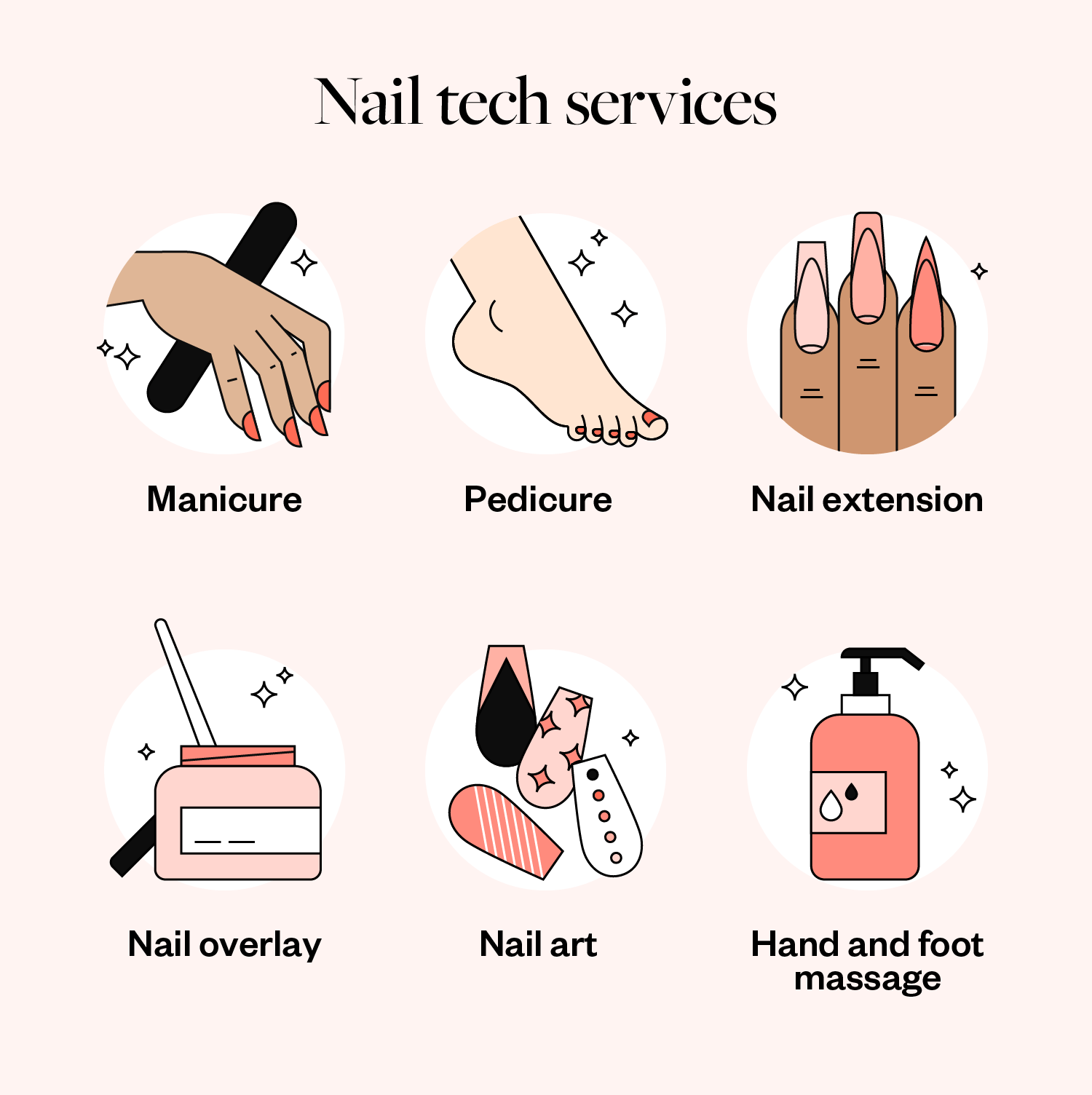 Duties and responsibilities of a nail technician include:
Manicure: Manicures typically involve nail care such as trimming, shaping buffing, cuticle work and painting the fingernail.
Pedicure: Pedicures are similar to manicures regarding the services you will perform as a nail tech. However, pedicures also focus on foot care by also providing callus removal, foot scrubs and more.
Nail extensions: Nail techs use a special technique to add length to the nails.
Nail overlay: Many nail technicians have a preferred overlay they like working with, but the most common overlays are hard gel, acrylic and dip powder.
Nail art: Many nail technicians also offer nail art by painting designs onto the nail.
Hand and foot massage: As part of manicure and pedicure services, nail techs also offer massage services.
Client education: An essential part of their job is educating clients on how to care for their nails between appointments.
Maintain a clean and safe environment: Nail techs must maintain a disinfected and clean work environment as a health and safety precaution for their clientele.
It's essential to note that all states require you to obtain and upkeep a license approved by your state's licensing board.
7 Steps to become a nail technician
If a nail tech's duties and responsibilities sound exciting, keep reading to learn about these essential steps you must take to become a licensed nail technician.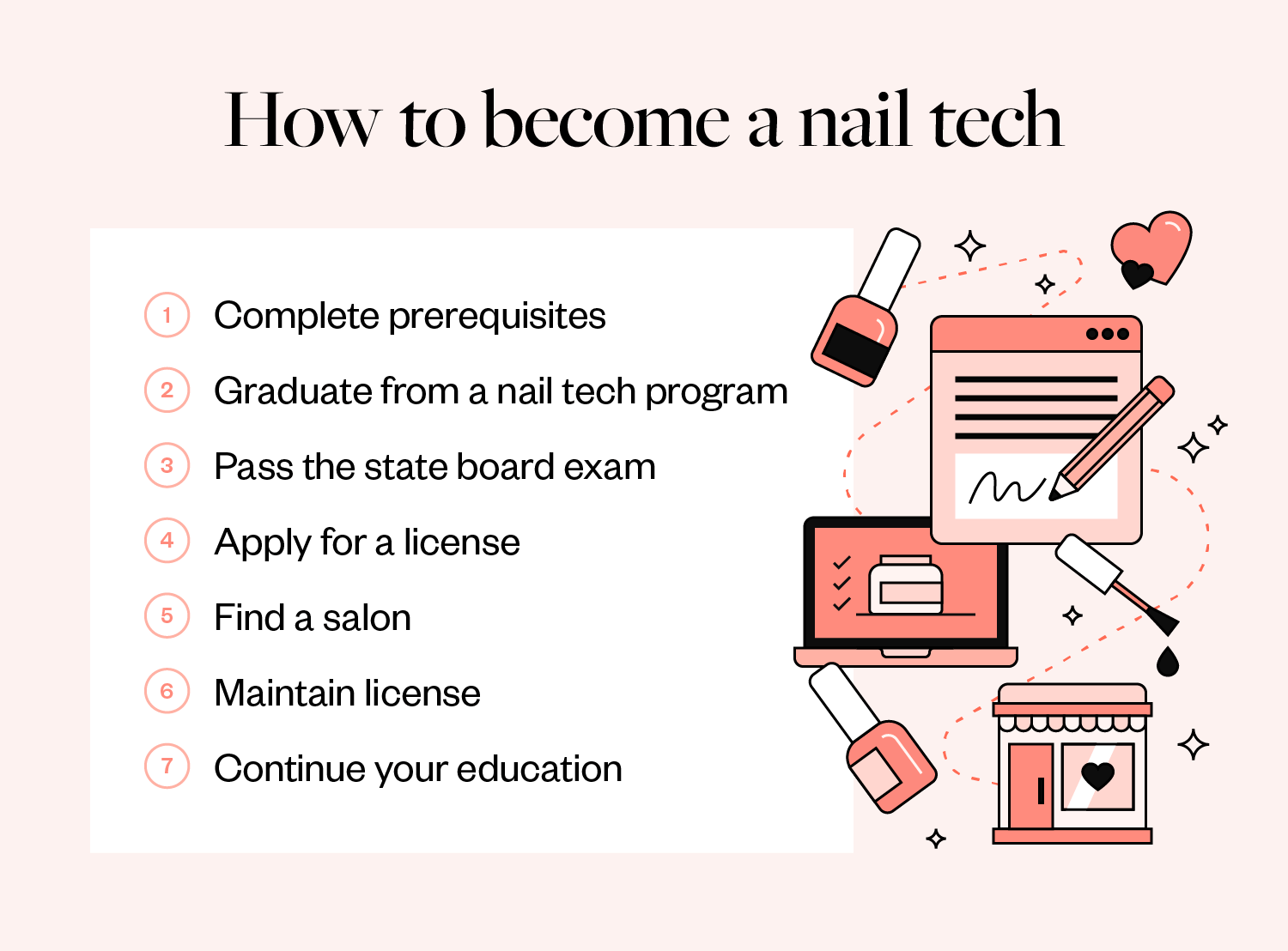 1. Complete any necessary prerequisites
Before starting a nail tech program, you must complete all the necessary prerequisites to ensure you're eligible for the program.
Most states require you to be at least 18 years old with a high school diploma or equivalent. However, the state's board of licenses set these requirements and are not the same everywhere.
For example, as of September of 2023, laws in Arizona state that you can go to nail school as long as you are 18. If you are younger than 18, you can start school if you have proof of a high school diploma, GED or at least 10 credits in high school with 2 English credits if you are 16 years old.
However, Michigan law requires all school attendees to be at least 17 years old with no other requirements. For the most accurate information, check with a local school in your area or your state's Cosmetology or Professional Licensing Board.
2. Find and complete a nail technician program
Once you meet the requirements in your state, you can find a nail technician program near you.
When considering schools, try going on tours of schools and getting more information on the curriculum, tuition, schedule and expectations. It can also be beneficial to find someone who recently graduated from that school to learn more about their experience.
When you've found a school that you're compatible with, see their website to submit your application. Once enrolled, you'll start at the next available start date.
You can expect to learn sanitation, nail anatomy and health, nail treatments and technical and business skills from a nail technician program. 
3. Pass the state board exam
Once you've completed your program, you're ready to take your state's board exam for nail technicians. Many schools offer exam preparation programs, and most states will provide a list of topics to study as you prepare for your exam. Visit your state's Board of Professional Licensing for the most accurate information on what to expect from the exam.
Many states require nail technicians to take a theory (written) exam and practical exam where you'll demonstrate your skill and knowledge in a simulation setting.
Theory state board exams for nail technicians often cover the following topics:
Infection control and sanitation
Anatomy and physiology
Client consultation
Nail tools
Service preparation
Service specifics
Application and maintenance
Post-service procedures
Practical state board exams may ask you to perform the following skills:
Safety practices
Anatomy and physiology identification
Chemistry of nail products
Client consultation
Proficiency in the use of nail tools
Service preparation
Complete a service
You may need to prepare your own nail tool kit if your state requires a practical exam.
4. Apply for your license
Graduating from a nail tech program and passing your state exams are two huge accomplishments, but there's still more you need to do.
Once you have proof and passed the board exam and certificate of completion from your school, you can apply for your license. While some states offer licensing at the time of passing your exam, most states keep two processes separate.
Your state's Board of Professional Licensing website will have all the information you need to apply for your nail tech license. States may offer online, in-person or mail applications. Please note you may have to pay an application fee.
5. Find a salon
Once you're licensed, you're ready to work! As a beauty professional, you'll have two options:
Work as a W2 worker in a salon.
Rent a booth from a salon and become an independent contractor.
There are pros and cons to both options. As a salon employee, you won't have as much control over your schedule and services. However, you won't have to run your own business, and you'll likely have support from other employees.
On the other hand, renting a booth gives you more flexibility as you will be working for yourself. You'll be able to create your hours and service menu, but you'll also have to use essential business skills like client communication and scheduling, finances, inventory, marketing and more.
6. Keep your license up-to-date
Your state license will have an expiration date on it, so you'll have to reapply every year to two years. Please note there is often a fee associated with reapplication. Many states will require that you take continuing education credits throughout the year to maintain your licensing and ensure you're up-to-date on all the latest trends and technology. You may take these courses in-person or online, depending on the state's requirements and what classes are offered in your area.
See your state's professional licensing website for more information on the reapplication and required continuing education credits.
7. Never stop learning
The beauty world is always evolving, so you must continue to grow your skill set and try new techniques. A great nail tech is always up to date with the latest trends!
You may also benefit from taking more classes or studying business and customer service skills. Being a great nail tech is one achievement, but being a great business owner and a great nail tech makes you the whole package!
FAQ about becoming a nail tech
Looking for more information on a career as a nail technician? You're in the right place! Keep reading for more on what it's like being a current-day nail tech.
How long does it take to become a nail tech?
Each state sets its requirements for the amount of training hours a nail tech must complete before getting a license.
Overall, most states require either 400 or 600 hours of training. If you attend a full-time program (40 hours per week), a 400-hour program will take about 10 weeks, or two and half months, to complete. A full-time 600-hour program will take three to four months to complete. Keep in mind that many students go to school part-time, which will extend how long it will take to get their certificate of completion.
How much does it cost to become a nail tech?
As with any career, schooling is an investment with some upfront costs.  School tuition fluctuates depending on the program you choose and the location of your school. For example, a 400-hour nail school in California will likely cost more than a 200-hour program in Maine. On average, you can expect to spend between $3,000 and $10,000 in tuition costs alone. 
Financial aid is available for those who qualify, and private scholarship opportunities can assist with these costs.
You may also need to purchase your school materials (nail kit) as many schools do not provide tools with the cost of tuition. A school kit can run you about $200 to $300.
Other potential fees to remember are the fees for taking the state board exam and applying for a license. Again, these fees will depend on the state where you are testing. Many states charge about $100 for each nail tech exam. The average license application fee ranges from $30 to $100.
How much does a nail tech make?
It can be difficult to know exactly what nail technicians make because the average salary is based on the W2s of nail salon employees. The Bureau of Labor Statistics reports that the median salary for nail technicians is $31,110. 
We'd also like to note that many nail technicians work less than 40 hours a week and take cash tips that don't always get accounted for in their salaries. With this in mind, the average salaries of nail technicians may be higher than reported.
Of course, your skill level and location significantly affect your salary.
Whether you're seeking a career change, searching for continued education or ready to enroll in beauty school today, we're here to help you decide about your career in the beauty industry. For even more information on beauty and how to become a nail tech, subscribe to the Milady Newsletter and get the latest news and trends straight to your inbox!
Ready to take the first step towards an exciting and rewarding career in the beauty industry?
Sign up for the Milady email list. As a subscriber, you'll get a sneak peek into the world of beauty and all the possibilities that await you. Don't miss out on this opportunity to stay in the know and start your journey towards a brighter future today.
"*" indicates required fields
About Milady
Milady is on a mission to prove that a career in the beauty industry can lead to professional success and personal fulfillment. Our job is to create forward-thinking education that reshapes the industry and uplifts the next generation of beauty professionals. Let's change the face of beauty. Learn more about Milady, here.