This Is Not the Latest Edition
We continually raise the standard for beauty and wellness education, and this edition no longer provides the most up-to-date education and skills professionals need to succeed. Learn about the Milady Standard Cosmetology (14th Edition) here.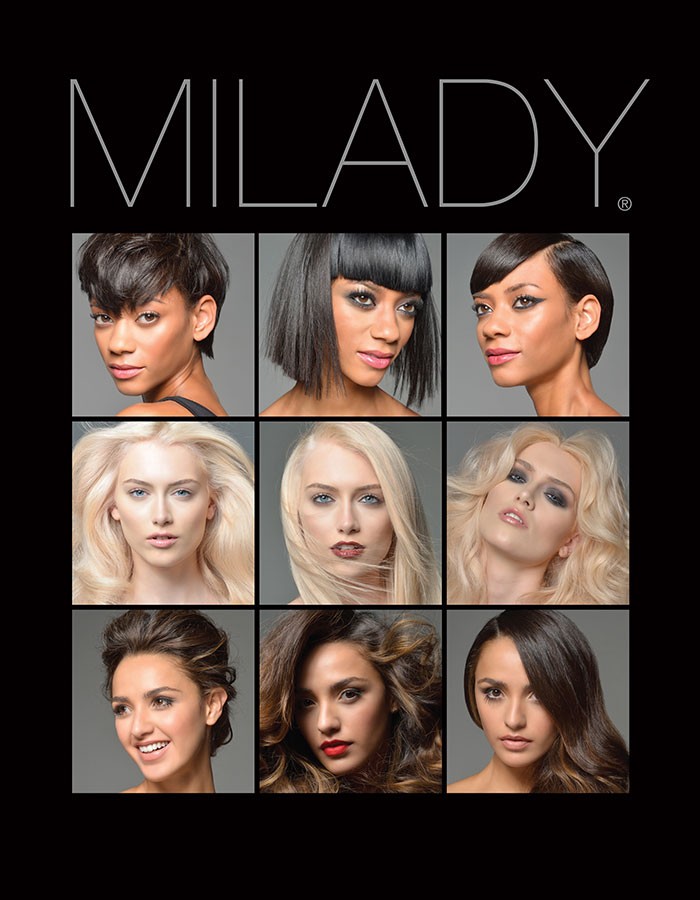 Milady Standard Cosmetology is the most widely-used curriculum in cosmetology education today. Our commitment to providing resources that elevate the industry ensures that we are continually working to help all students succeed in the classroom and beyond.
History and Career Opportunities
Life Skills
Your Professional Image
Communicating for Success
Infection Control: Principles and Practices
General Anatomy and Physiology
Skin Structure, Growth, and Nutrition
Skin Disorders and Diseases
Nail Structure and Growth
Nail Disorders and Diseases
Properties of the Hair and Scalp
Basics of Chemistry
Basics of Electricity
Principles of Hair Design
Scalp Care, Shampooing, and Conditioning
Haircutting
Hairstyling
Braiding and Braid Extensions
Wigs and Hair Additions
Chemical Texture Services
Haircoloring
Hair Removal
Facials
Facial Makeup
Manicuring
Pedicuring
Nail Tips and Wraps
Monomer Liquid and Polymer Powder Nail Enhancements
Light Cured Gels
Preparing for Licensure and Employment
On the Job
The Salon Business
CIMA Digital Course
Easy, intuitive navigation for distance learning or in-person approach
Access to robust, built-in instructor resources
Powerful self-service analytics, time tracking and reports
Comprehensive device and browser compatibility
Customized reporting and tracking capabilities
Student Seat • 2-Year Access
ISBN: 9780357812556
List Price: $299.95 USD
Printed Access Card • 2-Year Access
ISBN: 9798214098548
List Price: $299.95 USD
CIMA Exam Prep
Student Seat • 2-Year Access
ISBN: 9780357921944
List Price: $39.95 USD
Printed Access Card • 2-Year Access
ISBN: 9798214098531
List Price: $39.95 USD
eBook
Printed Access Card ISBN: 9781305654730
List Price: $169.95 USD
Textbook
Hardcover ISBN: 9781285769417
List Price: $169.95 USD
Theory Workbook
ISBN: 9781285769455
List Price: $64.95 USD
Practical Workbook
ISBN: 9781285769479
List Price: $64.95 USD
Exam Review Book
ISBN: 9781285769554
List Price: $46.95 USD
Study Guide: The Essential Companion
ISBN: 9781285769639
List Price: $76.95 USD
Situational Problems
ISBN: 9781285769653
List Price: $54.95 USD
Spanish Editions
Textbook
ISBN: 9781285772622
List Price: $188.95 USD
Theory Workbook
ISBN: 9781285769462
List Price: $77.95 USD
Practical Workbook
ISBN: 9781285769486
List Price: $77.95 USD
Exam Review Book
Spanish Edition ISBN: 9781285769585
List Price: $61.95 USD
Study Guide: The Essential Companion
Spanish Edition ISBN: 9781285769646
List Price: $89.95 USD
Vietnamese Edition
Textbook
ISBN: 9781285769448
List Price: $188.95 USD
Course Management Guide
Lesson plans
Transition Guides
Computerized Test Bank
Answer Key for Workbooks
ISBN: 9781285769677 (CD)
List Price: $606.95 USD
ISBN: 9780357920640 (Online Access)
List Price: $557.95 USD
Instructor Support Slides
PowerPoint™ Slides
Chapter-by-chapter outline of content
ISBN: 9781285769684 (CD)
List Price: $211.95 USD
Instructional Videos
(from previous 2012 edition)
ISBN: 9780357920633 (Online Access, 10 codes)
List Price: $1150.95 USD